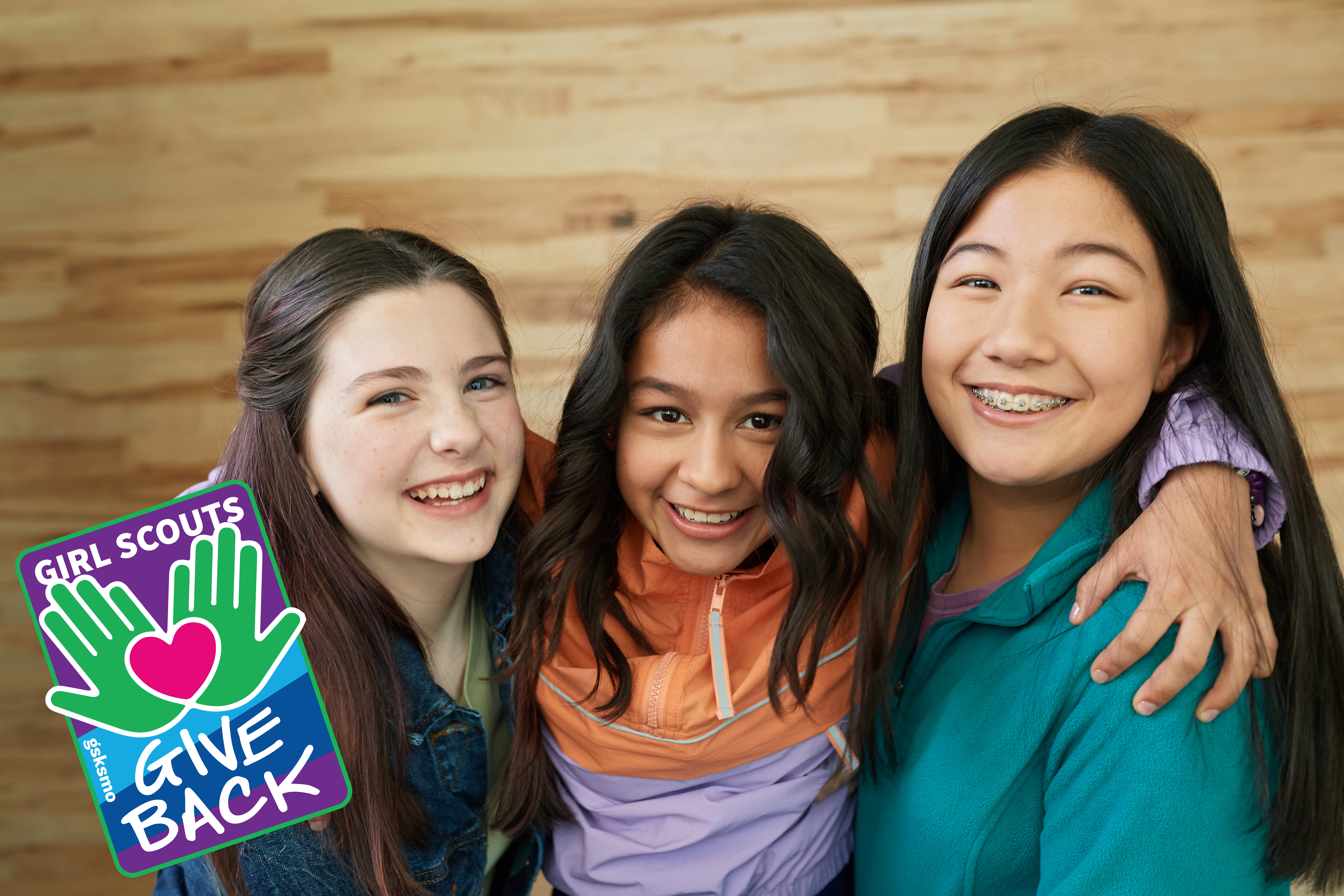 Girl Scouts GIVE BACK
Our Council-Wide Collection Drive
One Girl Scout makes a difference. Girl Scouts TOGETHER change the world. Each year, Girl Scouts of all program age levels work together with their families, friends, and neighbors to collect critical items for service organizations across our council. Girl Scouts love to give back and help others, and what better time to give back to the community than during our founder, Juliette Gordon Low's birthday! Girls can help continue Juliette's tradition of giving back to the community throughout the month of October by collecting items for one of the organizations below or another organization of your choice.
---
Step #1: Pick the partner organization for which you want to collect items.
Drop off for these three organizations will be on November 18 from 10:00 a.m. – 12:00 noon in the parking lot of our council office in Overland Park.
Giving Hope & Help

Items needed from Girl Scouts:

Feminine Hygiene Products

Giving the Basics

Items needed from Girl Scouts:

Shampoo
Conditioner
Lotion
Deodorant
Toothbrushes
Toothpaste

Happy Bottoms

Items needed from Girl Scouts:

New packages or open packages of diapers, pullups/training pants
New unopened packages of wipes
---
You will arrange drop off with the following organizations:
Flint Hills Bread Basket – Manhattan, KS

The Food Center – Warrensburg, MO

Harvesters – Kansas City and Topeka

Helping Hands Humane Society - Topeka

KC Pet Project – Kansas City, MO

Second Harvest Food Bank – St. Joesph, MO

Operation Wildlife – Lawrence, KS
---
Did your Girl Scouts want to work with another organization? YES! You can select an organization of your choice and work with them. Be sure to complete the form below to let us know and order your FREE patch per Girl Scout.
Step #2: Organize your collection and begin your drive. You can collect in October and November, and be sure to deliver during these months. Follow the needs list and steps your organization provides.
Step #3: Tell us the organization you are collecting for and the number of Girl Scouts Give Back patches you need. Though you will still be collecting, we need to order our patches. Please complete this form by October 20 to ensure we have patches for you.
If you have additional questions, please email us at customercare@gsksmo.org.