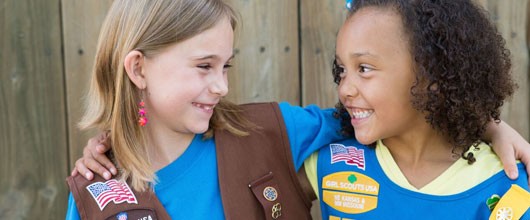 Troop Leader Central
Welcome troop leaders! Here you'll find links to commonly used resources and important information to help you lead your troop.
---
Frequently Used Forms

Managing Your Troop

Staying Safe

Troop Money Earning

Is your troop ready for a money earning activity?

Money earning refers to activities organized and carried out by girls (in partnership with adults) that earn money for troop activities. Brownie–Ambassador troops can FUND the FUN by following these five steps to money earning:

Five Steps to Money Earning

Follow good money management practices. Read chapter 5 in Volunteer Essentials and determine your need for money earning. If you are considering a money earning activity to fund a trip, be sure you have submitted your Activity & Trip Application and it has been approved.


Participate in Cookie Program and Candy, Nuts & Magazines program.


Submit your Troop Money Earning application at least 4 weeks prior to your proposed activity.


Await approval. You will be contacted within 5 business days of submission with a response to your application: approved, pending with additional information needed or denied. If you receive a pending or denied response, your membership manager will provide guidance on other activities you might consider.


Once you are approved, your troop can plan and carry out the money earning activity.

---

Guidelines for Babysitting        
Guidelines for Garage Sales
Guidelines for Restaurant Fundraisers


---

Examples of Money Earning Activities

Common/traditional activities:

​Bake sale
Mother/Daughter event (tea, etc.)
Dinners (chili, spaghetti, etc.)
Garage sale (see guidelines PDF above)
Pancake breakfast
Face painting

Car wash
Craft booth at church or local fair ​​ ​

Unique/specialized activities:

Daisy Petal Catch Up (for new girls joining a Daisy troop to earn petals)
Water booth at town festival
Pink flamingo flocking
(special recognition for the adult in service unit)
Make rain barrels to sell at area markets
Babysitting (see guidelines PDF above)​• Cake decorating workshop
Gift wrapping
Create a cookbook
Photo booth at special event
Corsages for father/daughter dance
Swap making shop


Other Resources

Supplemental Training Library
Live and Recorded Webinars

Join our Troop Experience Managers as they host webinars on the dates and topics below. Can't join? Don't worry, all webinars will be recorded and linked in the "Recorded Webinars" section of this page.


UPCOMING LIVE WEBINARS:


Aug. 23, 7pm: New Badges/Journeys in the VTK (All levels) >> Register now
Sept. 13, 12pm: Daisy Petals 101 >> Register now

Sept. 27, 7pm: Working with Parents/Motivating Adults
Oct. 11, 12pm: Girl Scout History and Traditions
Oct. 25, 7pm: Tips & Tricks from Girl Scout veterans
Nov. 8, 12pm: Journeys 101
Nov. 22, 7pm: Building Courage, Confidence & Character: Why you joined Girl Scouts

RECORDED WEBINARS:


Short 'N Snappy Videos

Short 'N Snappy videos provide support on a variety of topics for troop leaders! Learn more on how to manage your troop and work with girls. All videos are between 15-30 minutes in length.  

Establishing a Girl-Led Junior Troop

Building Sisterhood

Running a Parent/Caregiver Meeting


Stay tuned! More Short 'N Snappy videos on the way!

For New Troop Leaders
Troop Meeting Outlines

To help new leaders get started, meeting outlines have been created for Daisy, Brownie and Junior Troop Leaders. The guides help troops start with Petals/Badges or a Journey.

Each outline includes a list of supplies, opening/closing, activities related to the petal/badge or Journey listed, and sample emails that can be sent to parents after each meeting. Download the PDFs below to get started. Leaders are encouraged to continue using a similar format to lead future meetings.

New Troops
Introduction to Girl Scouts: The Promise and The Law

Daisies

Brownies

Juniors

Parent Meeting Resources

Managing a Girl Scout troop can be a big job, so it's a great opportunity to call on your village. Schedule a mandatory parent/caregiver meeting early in the year to set expectations and recruit other adults to help. You will want to identify an assistant troop leader, troop cookie manager, treasurer, drivers for field trips, and parents who can share special skills or career interests with girls.

Your troop may want to go a step further and set up a caregiver troop committee to share leadership responsibilities. If you want to shift troop leadership throughout the year, make sure adults who will be responsible for the troop have attended New Leader Express training.

The materials in the Parent Packet will help you plan your parent/caregiver meeting. If you need additional support, your service unit team, new leader consultant, or membership manager are all great resources.

---

What's in the Parent Packet?

Parent Meeting Tip Sheet:  An overview of how to set up and organize a parent meeting.
Parent Meeting Agenda:  Use this form to organize your meeting.
Parent/Caregiver Letter from GSKSMO: Use this letter to share with your parents/caregivers outlining the important role they play in their Girl Scout's experience.
Parent Involvement Form: Have parents complete this optional form to share their interest and availability for troop support. Spanish version
Parent Questionnaire:  An optional tool leaders can use to get to know the girls in their troop and collect additional information about each individual girl. Spanish version
Becoming a Troop Volunteer:  A printable document you can hand to parents that explains the screening requirements for participation in Girl Scout activities.

New Leader Express Tipsheets

Welcome new leaders! The tip sheets below will guide you through common processes and practices.


Helpful Videos

The 3 Processes Video

 

Girl Scout Leadership Experience (GSLE) Video
---
Has your troop earned their Bronze or Silver award? Let us know!