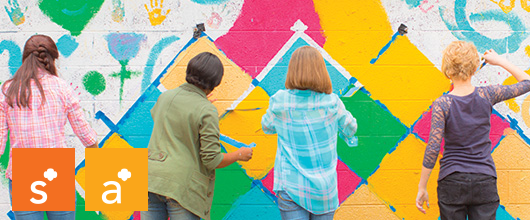 What Seniors and Ambassadors Do
Girl Scout Seniors and Ambassadors are ready to take the world by storm—and Girl Scouts will give them millions of ways to do it.
They can travel to amazing places like Costa Rica, Japan, or India; explore exciting careers in a variety of fields, from science to the arts to education to government; take on big projects and help others in a big way. And, of course, they can earn their Gold Award, which (by the way) adds that "little something extra" to their college applications. Seniors and Ambassadors are eager to spread their wings—and Girl Scouts helps them take flight.

2019-2020 Teen Leadership Circle
We're looking for Girl Scouts in 8th -12th grade to serve on our Teen Leadership Circle for the 2019-2020 Girl Scout year. This group of girls will meet four times a year, offering their experience and opinion to various GSKSMO departments to impact future strategic plans. They will also have special opportunities to serve at council events.
2019-2020 New Applicants
2019-2020 Returning TLC Applicants

About the Teen Leadership Circle (TLC)
Applications are due June 15!