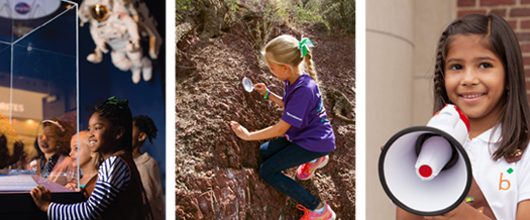 Our Program
At Girl Scouts, your girl will prepare for a lifetime of leadership, success, and adventure in a safe, no-limits place designed for and by girls!
How? Through the Girl Scout Leadership Experience—a collection of engaging, challenging, and fun activities like earning badges, going on awesome trips, selling cookies, exploring science, getting outdoors, and doing community service projects.
At Girl Scouts, she'll get to lead her own adventure (it's her world!) and team up with other girls in an all-girl environment to choose the exciting, hands-on activities that interest her most. Along the way, she'll gain important skills in four areas that form the foundation of the Girl Scout Leadership Experience:
STEM/STEAM (Science, technology, engineering, arts and math)

Outdoor Experiences

Civic Engagement/Life Skills

Entrepreneurship
With the help of supportive adults and troop leaders who bring those processes to life, Girl Scouts:

Discover
Find out who she is, what she cares about, and what her talents are.
 

Connect.
Collaborate with other people, both locally and globally, to learn from others and expand her horizons.
 

Take Action.
Do something to make the world a better place.