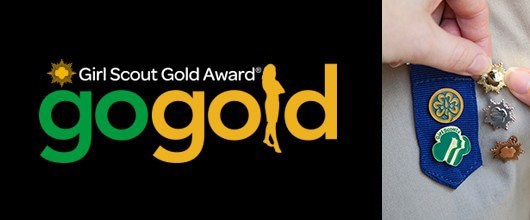 Gold Award
The Girl Scout Gold Award is the highest award a Girl Scout can earn. Once achieved, it shows colleges, employers, and your community that you're out there changing the world.
Join a century of women who have done big things. Learn more about Gold Award scholarships, the history of the Gold Award, and the benefits of going Gold. 

You can pursue your Girl Scout Gold Award if:
 

You're in high school (ninth through twelfth grade, or equivalent) 
 

You're registered as a Girl Scout Senior or Girl Scout Ambassador
 

Prerequisites
Complete two Senior or Ambassador Journeys OR earn the Girl Scout Silver Award and complete a Journey.
Attend a Go Gold Workshop. View upcoming workshops.

Special accommodations can be made for groups of 5+ girls who are more than 35 miles from a Go Gold Workshop location. Contact us to request a special workshop session 4-6 weeks in advance of desired date.

Project Proposal
Complete and submit Girl Scout Gold Award Project Proposal to us by email. Paperwork is then reviewed by Manager of Teen Experiences and you will be invited to attend a Gold Award Panel to present your Project Proposal. At that time, a Gold Award Advisor will be appointed to you. 

Gold Project 
Once your project is approved at the Gold Award Panel, begin working following the Gold Award Guidelines​. 
Remember to check in with your Advisor monthly. Your Advisor is there to offer support and guidance as you strive to achieve Gold.  Communication is key!

Final Report & Interview
Once your Gold Award Project is finished, complete the Girl Scout Gold Award Final Report and schedule a Final Interview with your Gold Award Advisor. Your Advisor must sign off on your Final Report.
The Gold Award has been officially earned upon completing a successful Final Interview and all paperwork has been submitted to us by email. 

Celebrate
Gold Award recipients who complete the steps by Jan. 15 will be recognized at Inspire a Girl Expo and Gold Award Ceremony on March 29, 2020 at Overland Park Convention Center. For projects completed after Jan. 15, recipients will be recognized at the next year's event.
---
Gold Award Resources and Tips

Remember: Make sure you have completed training and have project approval before you begin the bulk of work on your project. The Gold Award is a girl award and must be completed by Sept. 30 of the year you graduate high school or turn 18.
---
Girl Scout Gold Award Steps


Investigate your issue thoroughly
 

Get help and build your team
 


Present your plan and gather feedback